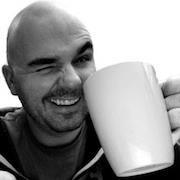 Nathan Smith, the founder of Zynali Marketing Solutions, used social media marketing strategies to escape a life of working in a prison. For 13 years, Nathan spent his days working in a depressing prison environment and he needed to escape. In 2009, Nathan launched his first website, CoffeeNate.com. Perhaps this would be his escape tool. With no funds for advertising or promotion, he knew that he needed a way to get the word out about his site, but it needed to be something that didn't cost money. Social media was the answer! Nathan quickly grew a following with Facebook and Twitter, investing several hundred hours into communicating with users who were looking for information about coffee. In 2011, CoffeeNate punched the prison time clock for the last time!
Always quick to assist others, Nathan became the 'go-to' guy for social media marketing advice and tips. After each complimentary meeting he would have, the business person would close with, "You should do this as a business". He brushed off this notion, the first couple of dozen times, but eventually acquiesced. Why not? I love social media and I thrive at helping others, he thought. With that, Zynali Marketing Solutions was born!
Today, Nathan helps businesses and organizations all over the world, harness the power of social media. Connecting brands to their customers in new ways, making their websites and products easier to find, and professionally managing all aspects of online marketing are his specialties and passion!
How We Can Help Your Business
Zynali Marketing Solutions will put you ahead of the competition in the social media, mobile, and "online" world. You know your business should be 'in social media', but you don't fully understand the how (or even if you do, you don't have the time!). That is where we come in. Zynali Marketing Solutions will develop a personalized social media strategy that is right for your business and customers. Our step one is taking the time to learn about your business! Contact Zynali Marketing Solutions today to arrange a complimentary meeting.
Zynali Marketing Solutions can create a profile for your brand on any and all social media channels such as Facebook, Twitter, Pinterest, Linkedin, YouTube, etc. We also offer website/blog development services. If you own a brick and mortar business, it is vital that you claim the profiles that already exist. Most business owners do not even know that these profiles exist! They are created by customers or automatically generated by the platform. As a business, you can claim these profiles, optimize them, and use them to attract new customers! Contact Zynali Marketing Solutions to discover how we can save your business time & money, while professionally managing your online marketing needs.