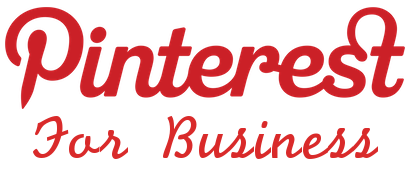 Pinterest, the latest social network to captivate the masses, and the reason that millions of women are stumbling to bed at 3 am.  This article will give you specific steps that you can take in order to leverage Pinterest for your business.  You will be able to set up your Pinterest business page, and create a successful Pinterest strategy and best practices that add to the community, rather than a short sighted spam campaign.
There are literally thousands of social networks!  You could never invest the time and energy necessary to have a competent presence on all of them, and you shouldn't even attempt this feat.  I am very selective about what social networks I involve myself in, and I've chosen to market my business on Pinterest.  Of course, Pinterest naturally lends itself to being a natural fit for some brands, but there are creative ways that any business can have an effective presence on this platform.
Why should you pay attention to Pinterest?
Pinterest is the fastest growing social network…ever.  That's right, Pinterest is outpacing Twitter and even Facebook, when compared by age.
While the overall number of users pales in comparison to Twitter or Facebook, the exciting thing is that Pinterest users are REAL PEOPLE!
Pinterest is already driving more traffic than Twitter
While 'sharing' and 'liking' are a small aspect to Facebook & Twitter functionality, they are the backbone of Pinterest.  The people who use Pinterest are actively looking for interesting things to share with their social circle.  More than 80% of all posts are 'repins' or other users' content.
The Pinterest platform is unique.  It didn't try to copy other models, they made their own.
60% of Pinterest users are college graduates
57% of Pinterest users earn more than $50K/year
71% of Pinterest users are the age of 25-54 (A key demographic of online spenders!)
We've tackled the 'WHY', let's get into the "HOW"
Start by creating a general strategy.  While you may be tempted to simply use Pinterest as an eCommerce platform, you have to be more creative than that.  It is certainly acceptable to feature your products, but the most successful brands have enjoyed a much more effective presence by creating boards that emphasize the lifestyle associated with their product or service.  They know their customers (and have a direct insight into them by being able to view their pins), and they post content that will resonate with them.
When creating a Pinterest business page, be sure to use the email address associated with your Twitter account.  This will help you to integrate and cross-post your Pinterest activity on Twitter.  There is an option for linking Pinterest to Facebook, but only to personal Facebook profiles.  There is only one type of profile, and no separate Pinterest business page.
Be sure to complete all of the profile information.  There is also an option to make your profile invisible to search engines, be sure this field is turned "OFF", as it is asking if you want to 'hide' your profile.

Visit http://pinterest.com/source/WHATEVER-URL/ to see what is being pinned from your website.  "Like" and/or comment on these pins to show your appreciation.  Nobody is doing this!  You can also use that source link to find out what people are pinning from your competitor's sites.  See what is working for them, and use that information when creating your own content.  You may also want to follow the users who are pinning your competitor's items.
Pinterest is all about visual, so be sure to use high quality images and videos.  While it is not uncommon to see an image on Facebook that was snapped from your cell phone while driving 100 mph, it is not the type of inspiring visual that will entice Pinterest users to share it.  Use a quality camera and lighting.  A stock image site, such as Shutterstock, is also a decent option.  (I strongly advise against using iStock, or any other Getty Images owned service…future post about that 😉 )
Create boards and pins before following anybody.  You want the user to be able to quickly identify who you are, and what you stand for.  Give them a reason to follow you.  A blank screen is not an inviting one.



Make the pin and pin-board descriptions keyword rich.  Since pin-boards are being indexed by search engines, it is very important to make the name of the board an important keyword, and to craft a description that is relevant and detailed.  Pin descriptions are also important.  Users will use the Pinterest search engine to find items to repin.  If your description is blank, it will never appear in the results.
Use #hashtags in your descriptions.  You can include a hashtag, much like twitter, to categorize your pin.  These are category links.  Another use of hashtag is to create a unique tag that you can easily identify pins that have been shared.  Note that users may edit descriptions when they repin, so this won't be a foolproof tracking strategy.
Find applicable users to follow.  Local people, current/potential customers, and users who are likely to follow you back.
Create 'pins' on a schedule.  Bit.ly has reported that the best time to create posts that will be re-pinned on Pinterest is on Saturday mornings.  Non-business hours are generally offer a better chance of your content getting picked up by more users.  (Facebook and Twitter are almost the complete opposite, with their best sharing times being from 1-4pm on weekdays…that was a bonus tip 🙂 )
Include a URL in the pin description itself.  Some Pinterest links are what are known as 'do follow', which means that they will boost the search results for your own website.  Even the 'no follow' links are an additional source of traffic.
Create content for your website with Pinterest in mind.  Pinterest is 100% visual, so if your post or page doesn't contain an image or video…it's invisible to Pinterest.
Use the 'Pin It' button. (https://pinterest.com/about/goodies/)  While many social plugins will have a Pinterest sharing button that you can enable, the Pinit button is customizable if you manually place it.  It is simple to do.  Enter the URL of the image, URL of the page the image is located, and a description.  Then just copy/paste the provided code into your post or page.  By including your own description, it is easier for your content to get shared, and your customized description will be inserted into the user's pin when they click the button.

Keep your pin description short, but keyword rich.  If users see a 12 paragraph pin description, they will most certainly delete it.  A short description stands a much better chance of being shared.
You can 'tag' users by using the @ symbol, like with Twitter.  Encourage your users to tag your profile in their pins, showing them using your product, or describing why they enjoy your service.  You can then repin these posts onto your own pin-board that features these brand ambassadors.
Host a contest or giveaway.  Much like Facebook was in the early days, the rules for Pinterest are pretty loosy goosey right now.  You can create buzz and increase sharing of your content by offering a contest to Pinterest users.  Be creative as the possibilities are endless!  Have them repin your pins, pin posts or pages from your site, create a board about your brand, and so on.  You can require them to use a unique hashtag in their pin descriptions, to make tracking entries much easier.  Be sure to keep it simple, and have your terms clearly laid out on your website.
Let your Twitter followers and Facebook fans know that you are on Pinterest!  It is a good idea to create an integrated system, where you create a post on your website, and it is easily shared on social networks.  Also, directing traffic from the social networks to your website is important.  Something magical happens when you create that circle!
Share your pins on Twitter, and sometimes on Facebook.  Remember, Pinterest only allows direct sharing with personal Facebook profiles.  To share a pin with your Facebook fans, you will have to manually share it.  All networks have their own rules of etiquette, so while it's cool to post 10 pins within a  half hour on Twitter, you will lose some Facebook fans (or the much worse 'hide') if you did the same there.
Create content on your website that is especially for Pinterest users.  Landing pages that carry over the theme of the source pin they came from will offer the visitor continuity, and enhance their trust of your site.
Create a 'behind the scenes' board to show off your team.  People love to identify with a brand in a personal way, and seeing the smiling faces of your employees gives them that.  It also gives users a feeling that they are getting exclusive content.  As a result, they feel all warm and fuzzy, and spend more money. 🙂
Make a pin-board that features Pinterest only offers.  Create a series of pins that describe discounts that can only be redeemed by Pinterest users.
It's okay to repin other users' content!  Sharing content generated by other Pinterest users is what the service is all about.  Share content that is relevant to your customers, and you will increase your credibility, as well as catch the attention of the original creator of the content.
When you include "$…" your pin will also display the price, as a diagonal ribbon at the top corner of the image. This will also show your pin in the "Gifts" section. Recent studies indicate that click through rates are not affected when personal profiles include prices, but brand profiles that include the price have shown to only garner half as many clicks.
Pinterest Tips For Local Businesses
This is a list of ideas, specifically for local businesses, in addition to the tips above.



If you own a brick and mortar business, search for users in a specific geographic area by typing in the name of the city.  (Be sure to select 'PEOPLE' in the search options)  This will produce a list of registered users in that city, provided they included that information in their profile.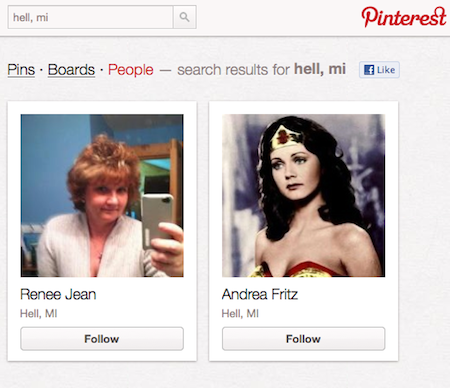 Include your city name, or #cityname hashtag, in your pin descriptions.
Create a board about your area/city, highlighting attractions, events, or anything that your customers will find interesting.  You will gain users who may not be interested in your product or service right away, but they are certainly connected to people who are.
Now What?
While I've given you an enormous list of ideas and specific things that you can implement right away, there is more!  I want to know what tips YOU have.  I would be grateful if you shared a Pinterest tip in the comment section below. 
What did you think of Pinterest before reading this post?  After? 
How are you going to use this platform?
Thank you!